Porcelain Veneers
Porcelain veneers are thin castings of porcelain that are permanently bonded to anterior teeth usually to brighten your smile. Veneers are also placed to brighten discolored, or chipped front teeth. They may also be used to align crooked teeth, or close a space for esthetic reasons. I like to restore a case with porcelain veneeers when orthodontic treatment (braces) is not an option for straightening and aligning front teeth.
The procedure I follow at my Daytona dentist's office is to mount study models (stone casts of your upper and lower teeth) on an ariculator (a devise that recreates the way your teeth touch, and your mouth open and closes). With these mounted study models, I can modify the teeth on the models to create that esthetic, well porportioned, natural smile. From those modified casts, I then make a template that I can take to the mouth during the preparation appointment as a "blueprint" for the end result.
I love to do it this way because it gives us both - the doctor and the patient - an opportunity to have an idea of what the end result will look like. It is great because if there is something that the patient does not like with the look, or the phonetics (the way we talk), we can change it during that appointment. We wear the temporary veneers for a week usually and re-evaluate how everything feels and looks, and do any modifications that we need to. Then when we bond the case permanently it looks great and feels good.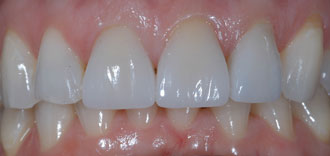 Porcelain Veneers
AFTER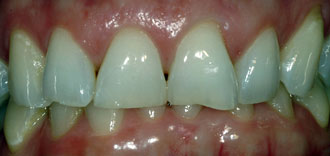 Porcelain Veneers
BEFORE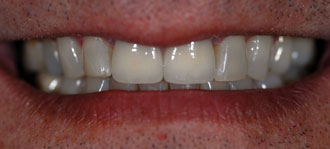 Porcelain Veneers